After setting the bar for ultra-slim gaming laptops with the original ROG Zephyrus, our engineers continue to redefine what's possible in the category. The latest example of their boundary-breaking spirit debuts at CES 2020 in the new Zephyrus G14, which puts unprecedented power in a 14-inch form factor that's portable enough to go anywhere and priced to bring premium gaming to everyone.
Cutting-edge components will take you most of the way to an amazing gaming experience, but the real challenge is getting them to work together in such a small machine. Despite a compact chassis that's under 20mm thin, the Zephyrus G14 pairs exclusive 4th generation AMD® Ryzen™ CPUs with up to an NVIDIA® GeForce® RTX™ 2060 GPU. Carefully customized cooling ensures these processors perform at their best, and you can optimize for gaming or creative pursuits with a choice between high refresh and high resolution displays, both with Pantone® Validated colors and Adaptive Sync variable refresh rate technology.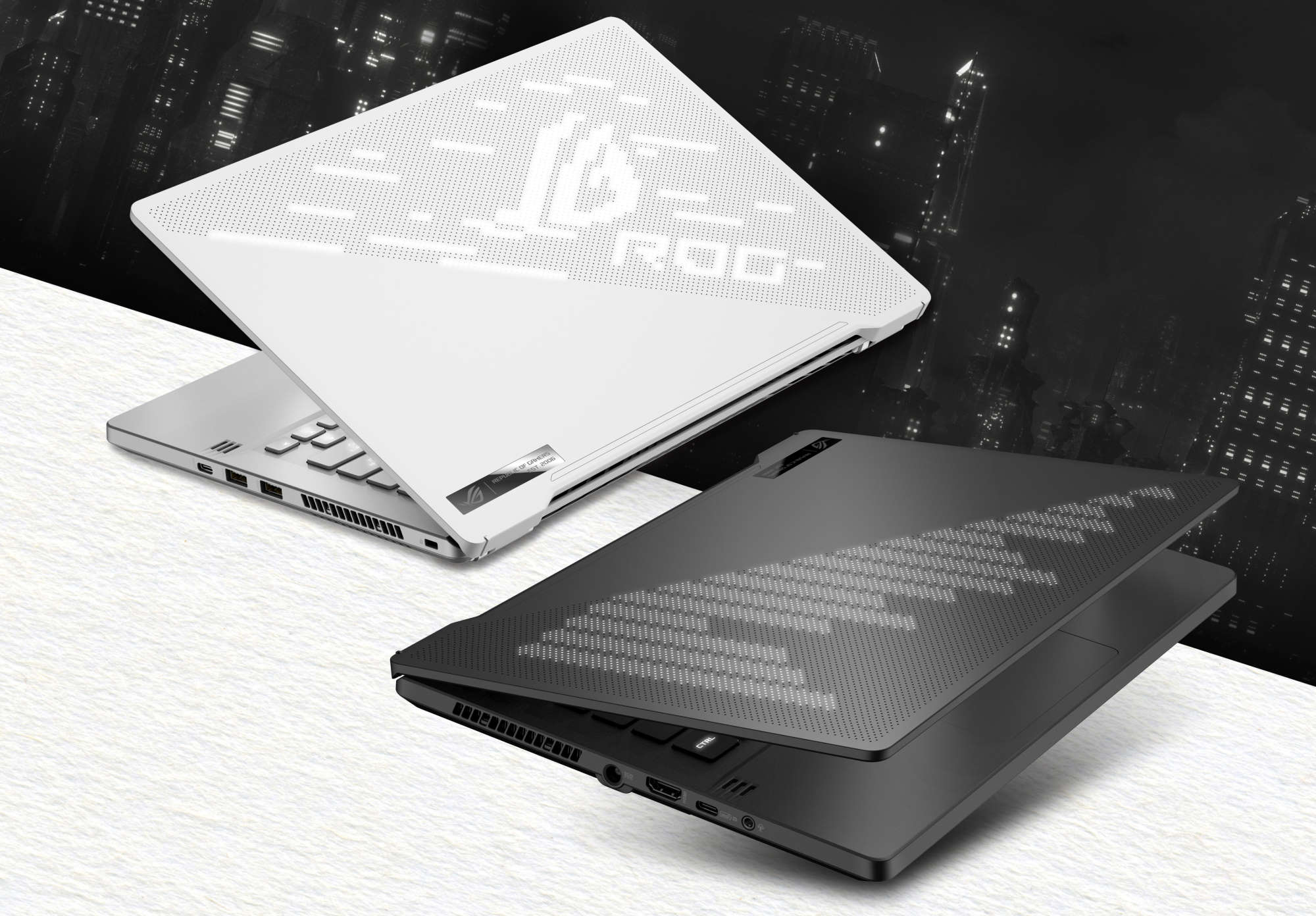 More than 10 hours of battery life and the ability to charge from compatible Type-C power packs, the G14 gives you the freedom to roam. Subtle styling in Moonlight White or Eclipse Gray moves seamlessly between personal and professional lives, accentuating a versatile design filled with thoughtful upgrades that enhance everyday use. When it's time to be seen, you can light up the optional AniMe Matrix™ display to show custom graphics, animations, and other effects across over a thousand mini LEDs embedded in the lid.
The Zephyrus G14 is intelligently equipped to fit into your lifestyle, bridging creativity and play, school and work, at home and on the road. It makes gaming more accessible and portable without compromising the experience or diluting ROG DNA.
Small size with big impact:
Packed into a much smaller footprint than 15-inch alternatives, the G14 easily slips into conventional laptop bags and backpacks. The system is only 17.9mm thin and 1.6kg without the custom LED matrix. Shrinking such a powerful laptop down to this size requires careful attention in every category.
Super-svelte chassis can sometimes feel flimsy and cheap, so our designers bolstered the palm rests with honeycomb reinforcements that add strength with minimal material. The magnesium-aluminum alloy deck is forged and machined for a perfect fit, then finished to resist fingerprints for a fresher look day to day. High strength and low weight also make magnesium alloy ideal for the lid, whose distinctive dot matrix design is produced by a CNC milling process that puts 6,536 precise perforations in the exterior panel.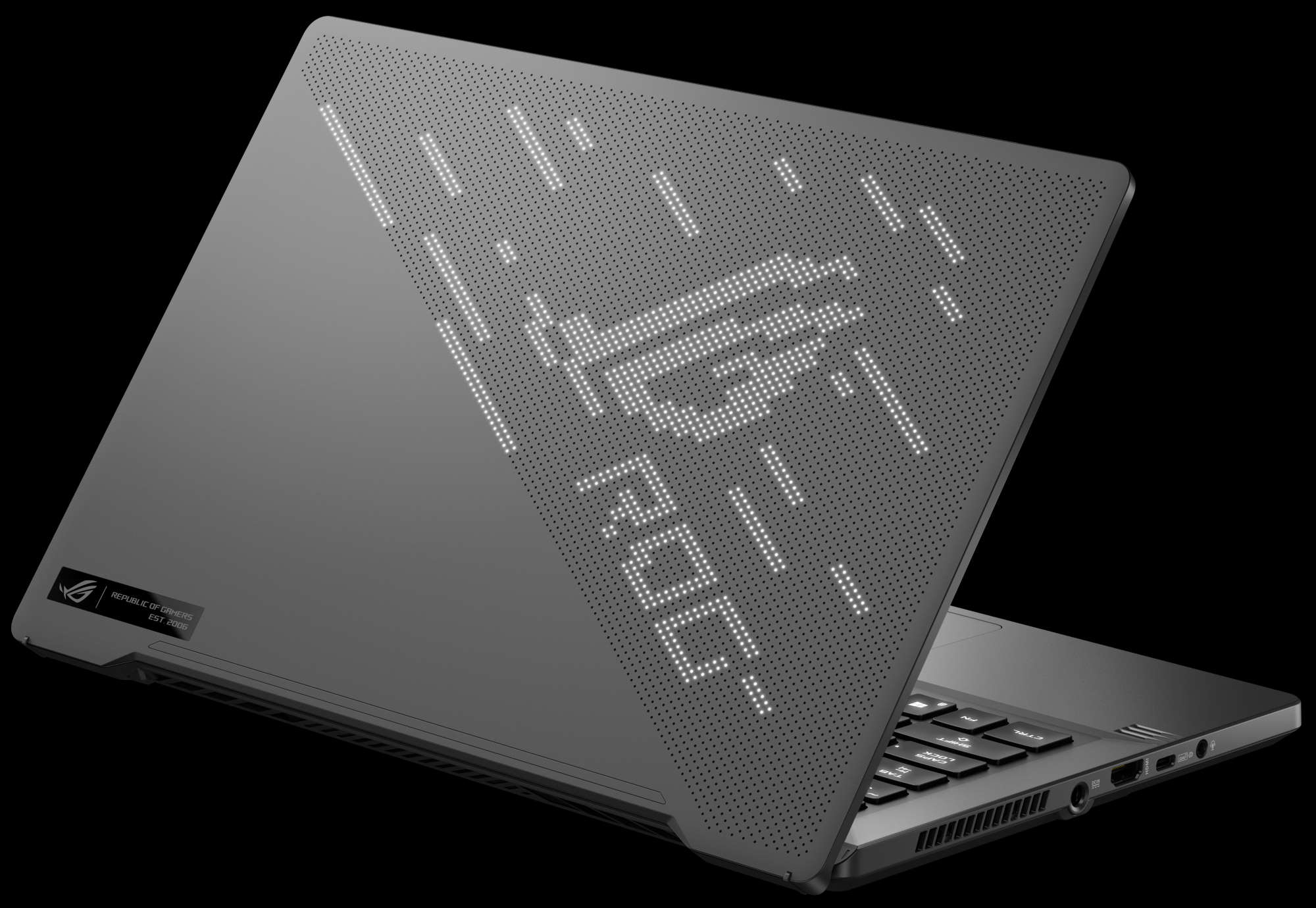 The understated take on the ROG slash appears on every Zephyrus G14, but it really comes to life with the AniMe Matrix display available on select models. This bold step forward for personalization spreads 1,215 mini LEDs across the lid, letting you fully express your individuality and creativity. Each LED emits a tasteful white glow with 256 levels of brightness control.
The monochrome palette and pixelated pattern have a deliberately retro feel with surprising flexibility. You can import animated GIFs and other graphics, build custom animations frame by frame, and type text messages with different fonts. Visualizations react to music and other audio, creating a unique platform for DJs and other artists. An upcoming update will enable system functions that show new email notifications in addition to the date, time, and battery level. Mix multiple types of content for an even more custom look.

Perfecting the AniMe Matrix display was one of the most difficult parts of the G14 project. We went through 15 iterations just for the mask that evenly distributes light from each LED, added a diffusing layer to soften the glow, and experimented with different diameters to find just the right size for the tiny openings in the lid. Alignment has to be perfect to get the ideal effect, especially since the individual lights are rectangular rather than square. We also had to carefully balance the number of mini LEDs to minimize heat, controller hardware, and power requirements. The patented design is a testament to our innovative spirit.
Powerful graphics for serious gaming:
Stunning looks on the outside deserve great graphics on the inside. Pumping out fluid frame rates in popular games requires a potent GPU, so the Zephyrus G14 comes with up to a GeForce RTX 2060 augmented by ROG Boost up to 1298MHz at 65W. The discrete GPU is based on the latest NVIDIA Turing architecture, which melds dedicated cores for programmable shading, real-time ray tracing, and artificial intelligence. This combination enables improved lighting, shadows, and other in-game effects, and it also offers a diverse array of compute resources for accelerating demanding workloads like content creation, 3D modeling, and deep learning.
Turing's dedicated video encoder is largely responsible for the G14's ability to game and stream simultaneously. The specialized hardware allows higher stream quality with minimal performance impact, and it's compatible with Open Broadcaster Software (OBS), a popular capture tool among burgeoning creators and aspiring Twitch streamers.
Choose high refresh or high resolution:
The display controls how many frames per second reach your eyes, and it's often compromised in smaller laptops. With the G14, we provide a choice between two premium panels tailored for different needs. You can select a faster Full HD display that goes up to 120Hz or opt for a higher WQHD resolution.
Smaller laptop screens aren't usually available with higher refresh rates, but being able to see more FPS is so important for gaming that we worked with one of our panel providers to create a new 14-inch display capable of keeping up. The 120Hz panel doubles the speed of typical laptop displays, making high-intensity action much smoother.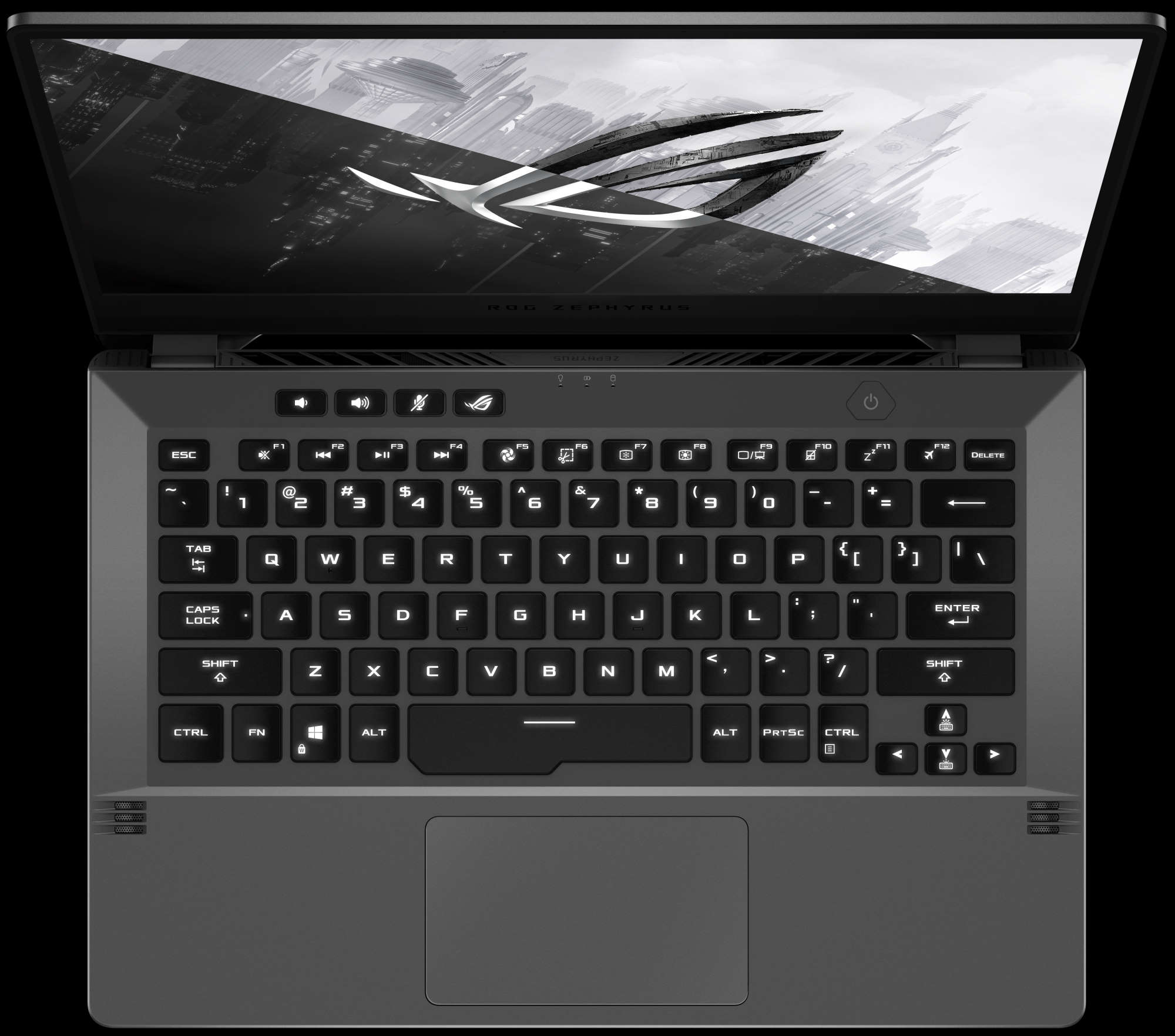 Adaptive Sync variable refresh rate technology adds another level of smoothness and immersion by closely coordinating frame delivery between the GPU and display. Game performance varies constantly depending on what you're playing and what's happening in the scene. Most displays refresh at a consistent rate, which creates problems when new frames aren't ready at the right time. Adaptive Sync synchronizes the refresh rate of the display with the frame rate of the GPU to eliminate visual tearing that can ruin immersion, and it also minimizes stuttering and input lag that can hinder your game.
Adaptive Sync support extends to the WQHD display, and it can be even more effective at the lower potential FPS associated with the higher resolution. The extra pixels are primed for creators who want to see more detail in their work, but they also appeal to gamers who prefer taking in their surroundings at a slower pace. Thanks to smaller dimensions, the WQHD panel has a higher pixel density than typical 4K desktop monitors. Even the Full HD panel matches the PPI of a 28-inch Ultra HD display.
Both displays are factory calibrated and Pantone Validated to ensure creators get the color accuracy they crave. The IPS-type panels have wide viewing angles and cover 100% of the sRGB range. They're framed by exceptionally thin bezels, creating an 85% screen-to-body ratio that makes these screens feel larger and more engrossing no matter what you're creating, watching, or playing.
Nonstop speed:
Our work with AMD to bring previous-gen Ryzen processors to the 15-inch Zephyrus G GA502 spawned a new breed of slim gaming laptops priced to bring gaming to a wider audience. For the G14, we collaborated more closely to create a series tuned specifically for the smaller chassis. The fastest 4th Gen Ryzen Mobile CPUs have power envelopes extending up to 45W, but we worked with AMD to tune those chips for the G14's unique form factor and cooling capabilities, resulting in a special 35W variation based on the same silicon. The chips retain up to 8 cores and 16 threads to blast through your most demanding workloads, but they dial back the clocks slightly to make thermals more manageable. There's still ample muscle for demanding applications like video editing and 3D rendering, and for heavy multitasking like mixing gaming with streaming, recording, and chats.
Cutting-edge 7nm fabrication technology helps condense so much power into a small and efficient package. The Zephyrus G14 lets you tackle a huge range of everyday tasks on the road, without fretting over where to find the nearest power outlet.
With up to 32GB of fast DDR4-3200 RAM across dual channels, you can do it all at the same time and have enough headroom for bigger projects. There's loads of wicked-fast storage supplied by an NVMe SSD with up to 1TB of capacity, meaning minimal load times for all your favorite games and apps.
One of a kind cool:
Ultraslim chassis already leave little room for airflow, and a smaller footprint makes the G14 even harder to keep cool, but our thermal engineers made the right adjustments. They developed an exclusive feature that dynamically adjusts the power available to the CPU based on the GPU temperatures. It can make changes every second to react to spikes in GPU utilization, ensuring optimal gaming performance for the conditions.
This is the first ROG laptop to feature an ErgoLift hinge that tilts the keyboard at a more comfortable angle. The bottom of the display lifts the back of the machine when you open the lid, giving the vents in the base more room to breathe. The design hides part of the lower bezel, too, but in doing so it can impede airflow from the rear exhaust ports. We cut vents into the bezel and widened the distance to rear heatsinks to compensate. It's a delicate balance, because making the gap larger increases the depth of the chassis and also makes the hinge more susceptible to downward pressure, requiring a stiffer spring.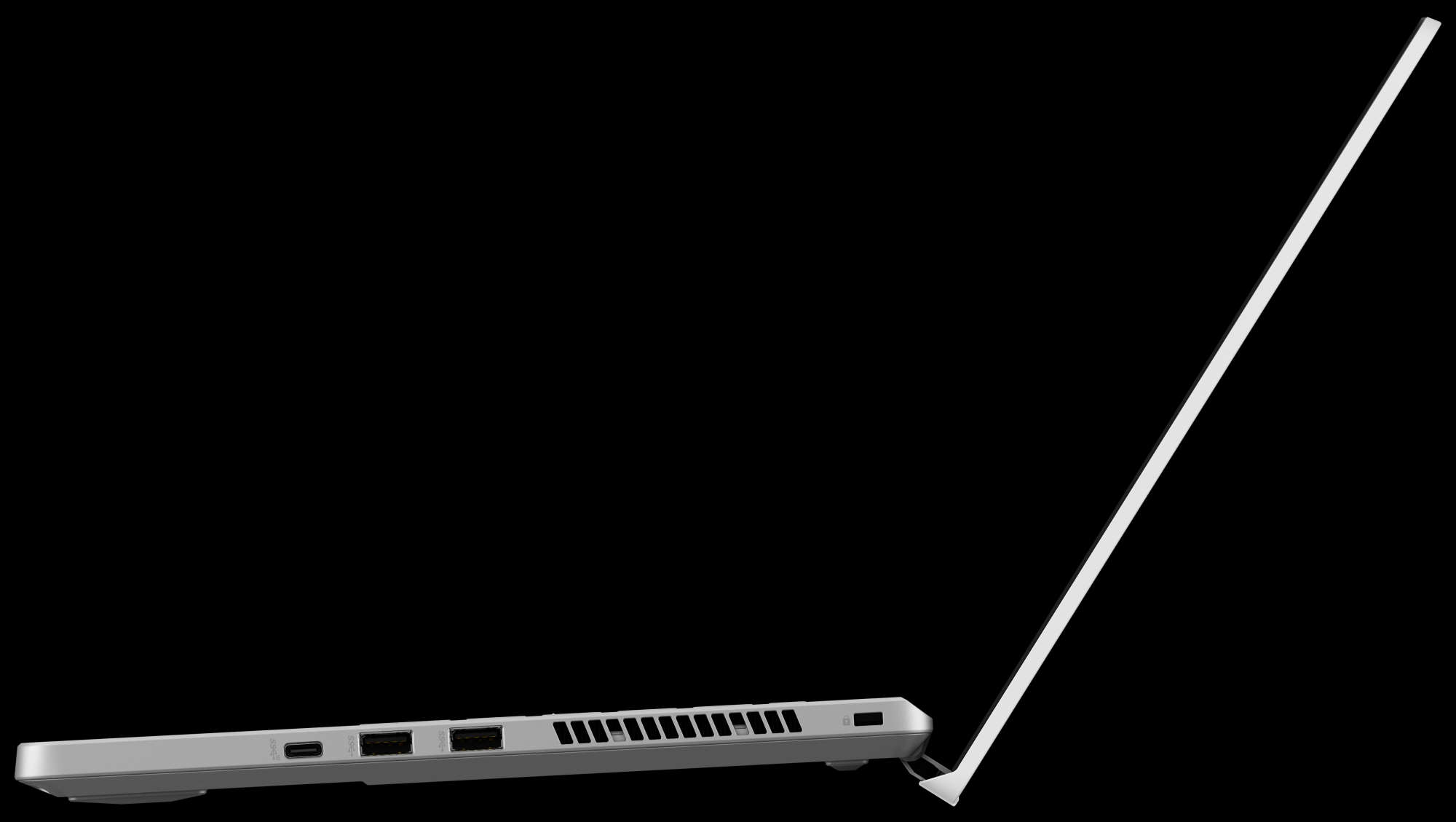 The rear exhausts and heatsink fins are shaped to direct air both up, away from the bezel, and down, towards the vents cut into it. Two more outlets line the flanks, and all four of them are filled with ultra-thin copper fins as slim as 0.15mm. The slender profile allows both higher density and lower air resistance than typical fins that are twice as thick. There are 209 heatsink fins totaling 68,868mm2 of surface area, comparison with 15". They dissipate thermal energy from a network of five heatpipes that cover the CPU, GPU, and VRM responsible for powering them.
Dust and other particles inevitably get sucked into laptop fans, but our self-cleaning cooling system helps to avoid accumulation that can compromise performance and stability over time. It uses anti-dust tunnels to catch particles and direct them out the back of the chassis. They take space away from the fan, and the G14 doesn't have a millimeter to spare, so we shortened the tunnels to make room for the same size of fan used in the 15" Zephyrus models. This custom design offers higher airflow while retaining good dust ejection, striking a better balance for this size of machine.
Even our n-Blade fans are tweaked to optimize acoustics in the super small chassis. They're made of a special liquid crystal polymer that lets the incredibly thin blades hold their shape at high RPMs. Instead of using 83 identical blades like our existing fans, the Zephyrus G14 alternates between 81 blades that are 50mm and 51.2mm long. The uneven outer edge reduces noise caused by turbulence but doesn't adversely affect airflow.
Fan speeds are controlled by an intelligent algorithm that responds automatically to temperature changes. Three expertly tuned operating modes let you quickly adapt to different scenarios using a convenient keyboard shortcut, while Scenario Profiles seamlessly switch between modes based on your preferences for individual games and applications. With the highest fan speed and frequencies, Turbo mode is the best for maximum performance. Performance mode strikes a better balance for gaming, while Silent mode goes further to reduce acoustics for lighter work and entertainment.
Top off with Type-C charging:
ROG created the first gaming laptop capable of being powered by DC or USB-C input, and the technology is a perfect fit for the mobile Zephyrus G14. With support for USB Power Delivery, it can handle lighter work powered by up to a 65W Type-C adapter that's much smaller than the 180W unit required to unleash the discrete GPU. Use a USB-C adapter to lighten your load on the road or around town. When it's time to plug in and fully recharge the G14, fast-charging support reverses the direction of the flow, using up to 3A to quickly rejuvenate smartphones and other devices.
If the battery runs low and you can't stop to charge or even find a free wall socket, you can buy precious time with a compatible Type-C power pack.
Flexible options on the go:
The Type-C port with USB Power Delivery is also capable of driving an external monitor via DisplayPort 1.4. Add HDMI 2.0b, and you can power everything from a classroom projector to a slick workstation with dual 4K displays. There's plenty of connectivity for external devices through a secondary Type-C port focused on USB functionality, plus two Type-A ports for additional gear like a mouse, gamepad, and thumb drive. No dongles needed.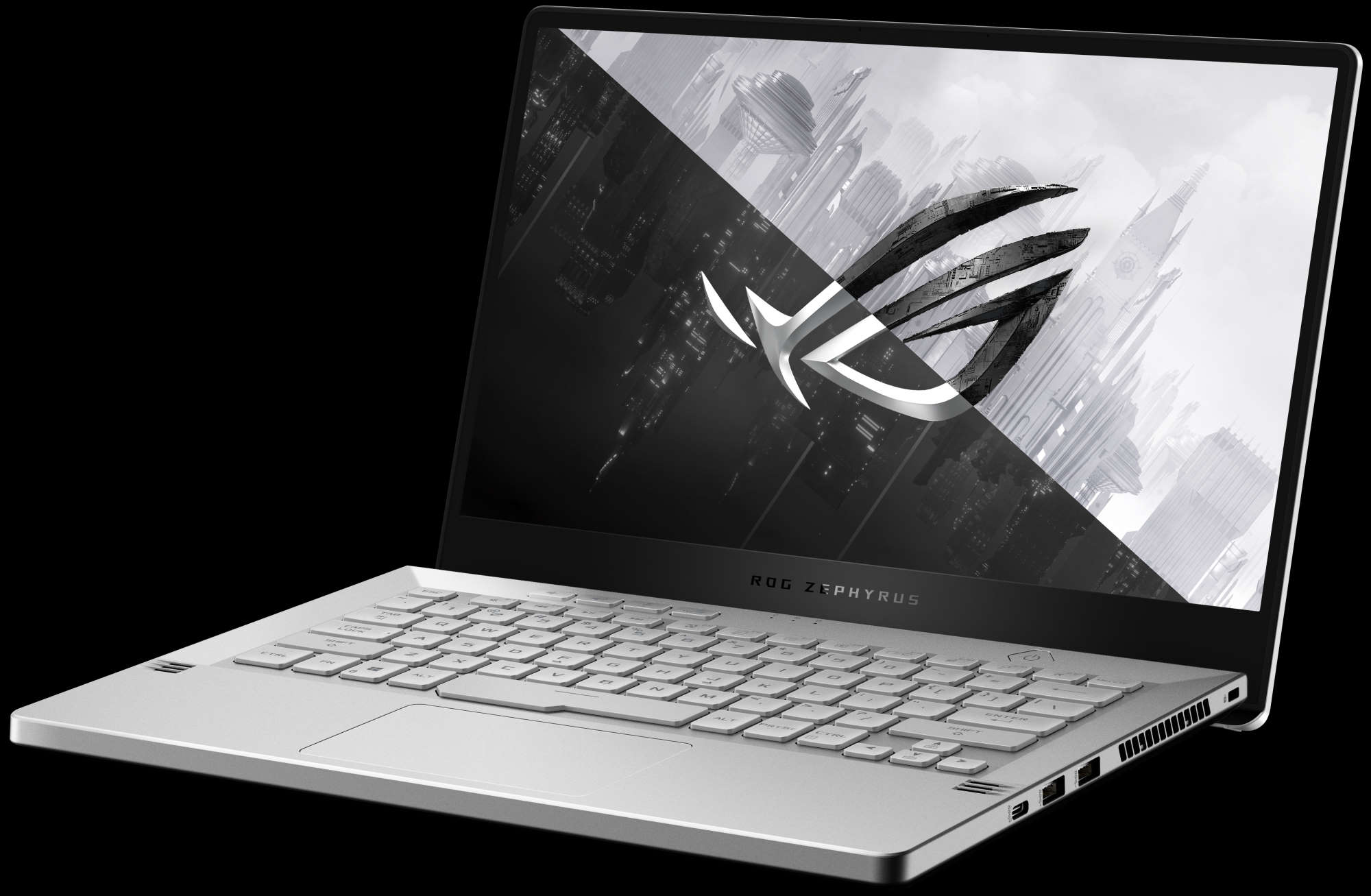 The Zephyrus G14 amps up wireless networking with Intel Wi-Fi 6 (Gig+) connectivity, also known as 802.11ax. When paired with a compatible router, Wi-Fi 6 (Gig+) boosts peak interface bandwidth up to 2.4Gbps, and improves efficiency for crowded spaces like coffee shops and libraries. It also reduces latency, meaning less lag for sensitive activities like online gaming, and expands upstream capacity, which provides more bandwidth for live-streaming.
Keyboard enhancements go beyond ErgoLift to improve your everyday routine. The G14 is the first ROG laptop to integrate fingerprint login into the power button. A single press wakes the machine and briefly caches your fingerprint, saving it to authenticate when Windows is ready to log in. On machines with multiple users, the OS automatically detects the right account.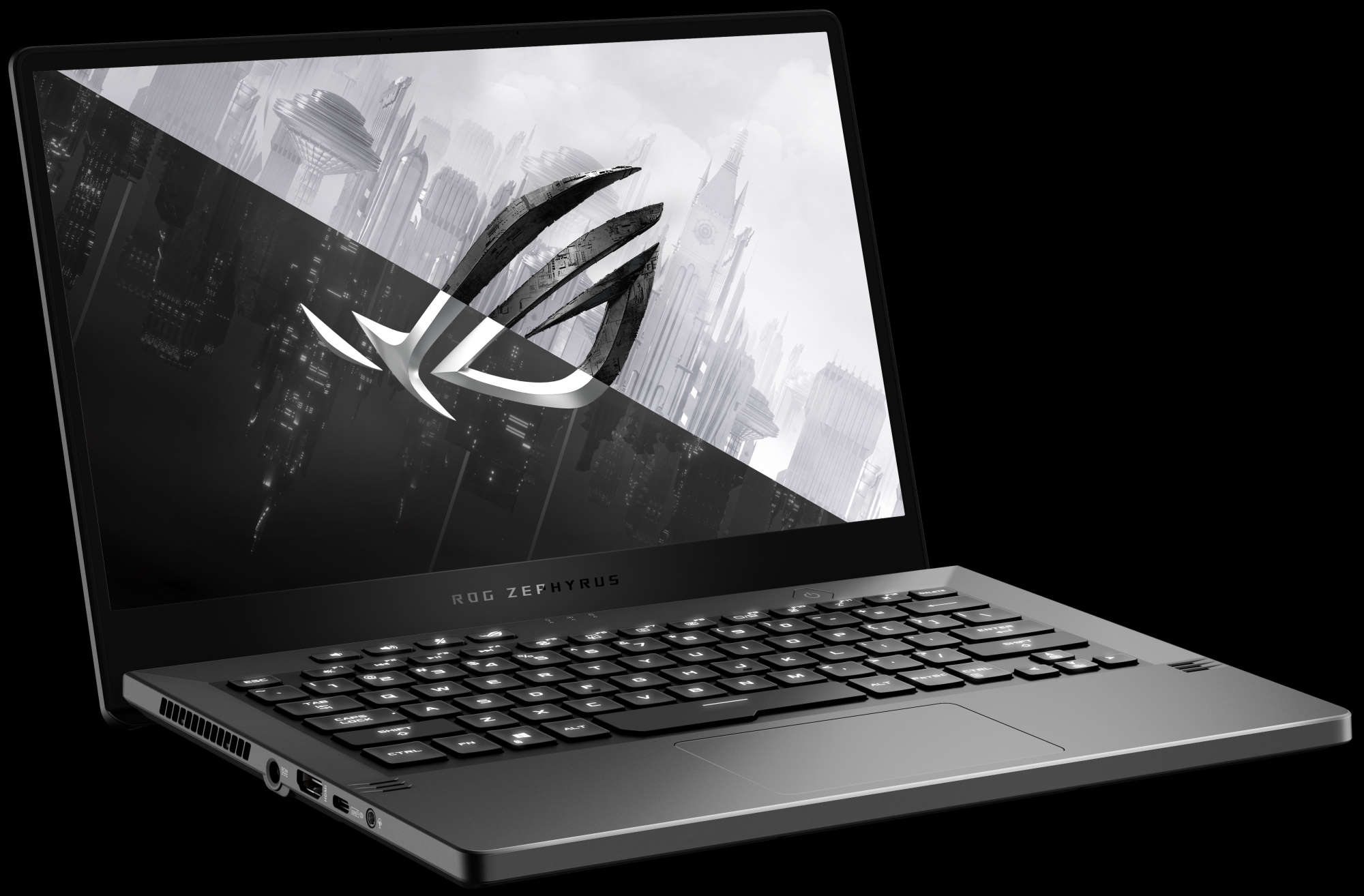 Despite smaller chassis dimensions, the keyboard takes cues from larger Zephyrus gaming laptops. Key switches with ROG Overstroke technology actuate earlier in the stroke for quicker, more responsive input, while N-key rollover ensures that every press registers, even when you're mashing multiple keys at once. Even the shape and placement of the keys is geared toward accuracy and convenience. Fire off function commands intuitively thanks to spacing that mimics desktop layouts, and access essentials like volume and mic mute instantly with dedicated hotkeys.
Immerse yourself in sound:
Multidimensional sound brings greater depth and direction to all a wide range of audio experiences, and it can even provide a competitive advantage in games. In the Zephyrus G14, Dolby Atmos technology enhances spatial immersion with virtual surround sound for both headphones and speakers.
The Dolby algorithms are also optimized to maximize loudness and fidelity for the G14's integrated speakers. Two tweeters positioned above the keyboard fire high-frequency sounds directly at you, while two woofers beneath them offer deep bass amplified by the ErgoLift design. This quad-speaker setup delivers perfectly balanced audio across the spectrum. You can pump up the volume on movies, music, and games without losing clarity or detail.
ROG Zephyrus G14
Processor
Up to AMD Ryzen 7 4800HS
Display
14″ 120Hz FHD IPS-level panel with Adaptive Sync technology
14″ 60Hz WQHD IPS-level panel with Adaptive Sync technology
14″ 60Hz FHD IPS-level panel with Adaptive Sync technology
Graphics
Up to NVIDIA® GeForce RTX 2060 6GB GDDR6
Memory
Up to 32 GB DDR4 3200MHz
Storage
Up to 1 TB M.2 NVMe PCIe 3.0 SSD
Wireless
Intel WiFi 6 (802.11ax)
Bluetooth 5.0
Connectivity
1 x USB3.2 Gen2 Type-C (DisplayPort 1.4 and Power Delivery)
1 x USB3.2 Gen2 Type-C
2x USB3.2 Gen1 Type-A
1x HDMI 2.0b
1x 3.5mm headphone and microphone combo jack
Keyboard
Backlit Chiclet Keyboard, N-key support, 1.7mm travel distance, 4 Hotkeys, Golden Curve, Power key with Fingerprint
Audio
2x 2.5W speakers with Smart AMP technology
2x 0.7W tweeter, Array Microphone
AC Adapter
180 W AC Adapter
OS
Windows 10 Pro
Windows 10 Home
Size
324 x 222 x 17.9 mm
Weight
1.6 kg
ROG Zephyrus G14
Meet the next game changer
Little details and big ideas put the Zephyrus G14 in a class of its own. No other 14-inch laptop offers comparable power in such a slim package, especially at an affordable price. This new addition to the Zephyrus family raises expectations for what's possible in such a portable form factor, and brings an exhilarating gaming experience to a versatile laptop made for everyone.
The Zephyrus G14 will be available starting in the first quarter of 2020, and you can see it on display at our CES 2020 showcase, located at the Planet Hollywood Las Vegas Resort and Casino. For a media tour, or for more details on configurations, availability, and pricing in your region, contact your local ROG representative.